Jyväskylä, Finland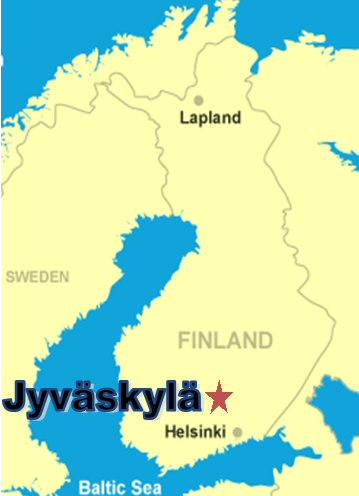 To start at the beginning – and this is definitely not it – I must go back 5 years, when Alana Reynolds, my wife, suggested I apply for a Fulbright DAT grant. My response was at once dismissive and offended, as if she didn't understand the stressful workload I already possessed. But the thing was, she did know. . .she knew all too well. Early to school, late home, grading every night, missing my kids' school events. . .and her favorite, the cantankerous Sunday evenings. (It's always fun watching an adult burn the Sunday night dinner table to the ground because he's not done grading essays.) To make it worse, she didn't give up. Every year it was the same: Hey, what about applying to Fulbright this year!? It was like an annual postcard from my dentist reminding me it was voluntary root work time.
However, as the years went by, the more I felt I could handle the teaching load and make a run at such an intimidating application process. Eventually, I got everything in order, made the time, applied, and here I am. No more being offended. No more voluntary root work. No more cantankerous Sunday evenings. Just Jyväskylä, Finland.
To be honest, I have been severely dragging my feet on this first blog post. I suppose I needed that experience before I began sharing. Up until this point it's all been abstract. Yes, there were countless hours on Google maps, walking the streets of Jyvaskyla one mouse click at a time, looking at Finnish architecture, finding places to buy groceries, fastest routes from home to school, etc. But now that I've arrived – now that I've spent a little more than a week in Jyväskylä – there is absolutely no way to share (in fewer than way, way too many words) just how concretely awesome this place is.
To conclude this first post:  It is day 10 for me, and while I've had a dozen meetings, met several extraordinary people, been to some insanely beautiful spots, devoured countless afternoon pastries, had painfully sleepless nights of jet lag as well as deeply satisfying micro-comas of winter slumber, been underdressed, overdressed, perfectly dressed. . .the only thing I can report with all my heart and soul is this: Koti on Suomessa!